Canterbury Exchange
October 22 - December 15, 2013
Canterbury Exchange showcases the works of 12 faculty members from Canterbury Christ Church University, Canterbury, England, and includes videos, photographs, graphic design, and work incorporating radio transmissions. The artists selected from Canterbury's Media, Art, and Design Departments are: Darren Ambrose, Rob Ball, Andy Birtwistle, Andrew Butler, Magz Hall, Bryan Hawkins, Mary Ikoniadou, Tim Long, Kate McLean, Benjamin Rowley, Karen Shepherdson, and Sam Vale.
Canterbury Exchange stems from longstanding relationships between two communities and two universities. The Town of Normal became a Sister City of Canterbury, England, in 1989; Illinois State University established a collegiate affiliation with Canterbury Christ Church University shortly thereafter. In the years since, scholars and students have been traveling to and from each country to further collegial and civic involvement between communities. In fact, the Office of International Studies and Programs at Illinois State University reports that this is a record year for students traveling from Canterbury to study in Normal. Canterbury Exchange provides a public venue for this intercontinental dialogue to continue.
The works presented in Canterbury Exchange offer enticing tales of memory, loss, struggle, and control. Ultimately, the story that unfolds through this artistic breadth is united by the concept of change and the struggles to fight against it.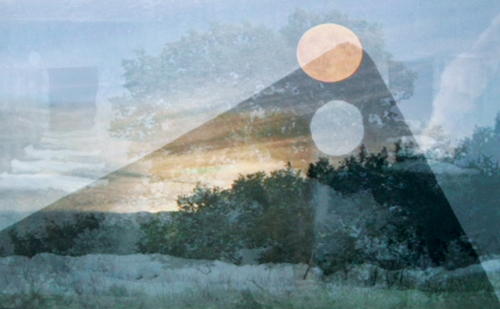 Bryan Hawkins, The Departure of the Good Daemon, video still
Sounds from Bryan Hawkins' videos are an invitation into the exhibition that can be heard from the gallery foyer. The artist aligns his personal muse with the mythic daemon conjured by the seventeenth century poet Robert Herrick. Hawkins' video, The Departure of the Good Daemon—a title borrowed from Herrick—layers the poem's reading upon ambient sounds and views of the English countryside. Birds sing through a humming breeze as the artist begins the poem: "What can I do in poetry now the good spirit's gone from me?" The voice fades to silence as the view cuts to the sky where white contrails from a passing airplane divide the blue, signifying a separation between the tangible and the intangible, between the Earth and ideas.
Informed by sensorial studies, Kate McLean's graphic design work uses olfaction to reveal the "smell portrait of a city." Her cartographic experiments cite crowd sourcing and personal observation as the source materials for the collective memory of a place. Subject to atmospheric shifts, smells are temporary by nature and yet McLean suggests that certain odors are inextricably linked to identity. Struggles against the wind become analogous to losing identity upon a changing cultural map.
Mary Ikoniadou's series of collages, Behind the velvet curtain, explores political identity in the Greek diaspora. Ikoniadou excerpts the magazine Pyrsos (Torch)—published by Greek nationals living in the German Democratic Republic between 1961 and 1967—to reenvision the changing face of Socialism in Europe.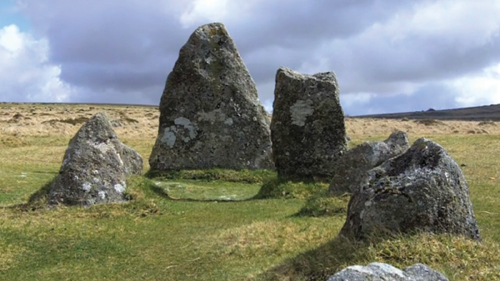 Andy Birtwistle, Concrete, video still
Andy Birtwistle suggests that human control is a dream and that one manifestation of its delusion is the material used to structure civilization: concrete. His video Concrete presents contemplative views of decaying sites from Taiwan and the United Kingdom. Concrete becomes synonymous with control—control of people, the environment, and ideas. A highway snaking through the countryside is coupled with narration: "In every human activity, there is a standard of conduct to which, in the common interest, we are expected to conform." A black compact car careens toward the camera, honking, before disappearing off screen.
This exhibition was initiated and co-organized by Scott Rankin, Associate Professor from the School of Art at Illinois State University. While a Fulbright Senior Specialist at Canterbury Christ Church University in 2011, Rankin started an "exchange" conversation with Canterbury colleague Andy Birtwistle, and subsequently began working with Tony Preston-Schreck, Curator and Interpretive Programs Coordinator at University Galleries, to develop Canterbury Exchange. University Galleries is privileged to present these compelling works from our colleagues in England and thus continue the conversation between our communities. An exchange of works from the School of Art at Illinois State University is planned for presentation in England in 2016.